The 20th North China International Bicycle and E-bike Exhibition Ended Successfully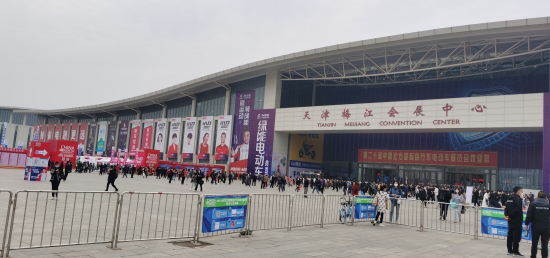 On March 28 the 20th China Northern International Bicycle and E-bike Exhibition, which lasted for three days, came to a successful conclusion in Tianjin Meijiang Convention Center. During the exhibition, dealers and professional visitors exceeded 80% among all visitors, and the number of visitors exceeded 200,000.
The total area of this exhibition occupied over 100,000 square meters, the number of standard booths reached 6000, and registed exhibitors were over 600. The products exhibited ranges from bicycles, electric bicycles to spare parts; shared bicycles and related technical products; kids bikes and parts; elderly leisure scooters; new energy and green transportation, etc. Among them, four consecutive international procurement conferences had been held. During this period, due to the impact of foreign Covid-19 epidemics, many foreign traders and international buyers were unable to show up on international procurement conferences-which had been held four times on exhibition-to participate related trading activities. To this end, the Organizing Committee of the Northern Expo opened an online exhibition hall of the "Cloud Expo" on the official website of the exhibition, which was free to open to foreign trade companies in all industries and has been launched ahead of the Northern Expo. As of the end of the offline exhibition, senior oversea buyers from nearly 40 countries and regions put forward their purchasing intentions through the "Cloud Expo" and the scope of procurement covers almost all product types in the entire industry.
Today, when intelligent travel is deeply rooted in the hearts of the people, exhibitors no longer carry out a simple promotion, but focus on scene-based application display, so that the audience can experience closely and understand the strategic development direction of enterprises. In the meanwhile, the products can also accurately reach the target customers. There are not only research and development of "groundedness" aimed at the elderly and children groups, but also many "Internet +" products, with a sense of technology and intelligent application design, attracting young people to "chop their hands". The "new China standard" products that represent quality and high-end were even more popular. Innovative products created by new materials, new processes and new technologies were focused by professional players. In addition, new energy green travel is also one of the hottest topics that have attracted much attention. "Carbon neutrality" became keywords mentioned by exhibitors and visitors.
As a manufacturing base for China's bicycle exports, Tianjin has strong manufacturing and overseas export capabilities. In 2020, the city's bicycle output was 30,580,000 sets, of which exports amount reached 21.3 million, an increase of 16.73% compared to 2019; and the export volume was 8.69 billion CNY, a year-on-year increase of 23.46%.
2021 is the 100th anniversary of the founding of the Communist Party of China, and is also the first year of the "14th Five-Year Plan". The Tianjin Municipal Bureau of Commerce will continue to help local enterprises to improve their capabilities in expanding international markets, innovative R&D, brand cultivation, technological transformation, international marketing system construction, credit insurance, and cross-border e-commerce and so on, and provide strong support for the development of Tianjin's foreign trade.